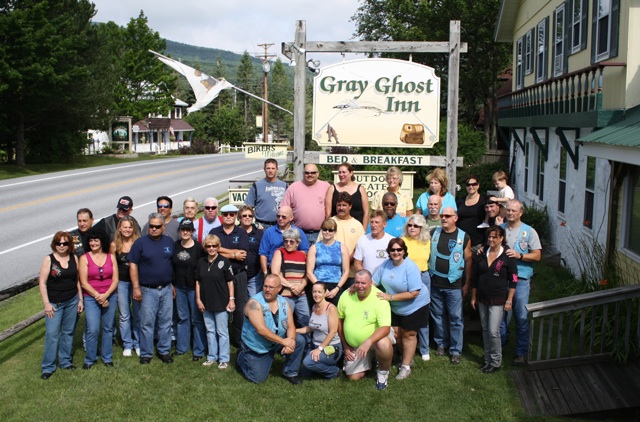 What Some Of Our Guests Have Said…
2018
As our group leader you did a fantastic job, Bob and I thoroughly enjoyed the program. You coordinated a great experience and I so enjoyed staying at your Inn; the accommodations were very nice and the meals were excellent. Wishing you success for the rest of the year and the years to come.
— Janet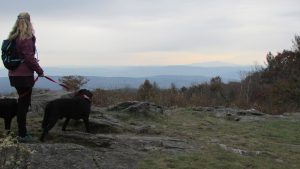 I just wanted to take the time to thank you for this past weekend at the Gray Ghost Inn. Other than the weather on Friday evening and Saturday AM, everything was wonderful. Probably one of the best testimonials for the weekend was that I heard zero complaints from any of the members. Again, thank you so much for making our stay at the Inn very enjoyable.
— Paul
I just had to write and tell you how much my husband, Jack Barclay, and I loved our time at the Gray Ghost Inn a week ago even though it rained so much.  You do an outstanding job as an inn keeper, and the food was so delicious.  We are already planning to come back to the inn and take another one of Ed's bridge courses.  Best wishes to you and your family, and we will see you again.
– Jana
2017
I wanted to drop you a quick note to say thank you SO much for being so gracious and accommodating to our group. Everyone had a wonderful time, and I know some have already made reservations to come back! I've also attached a picture of the group in front of your place.
You probably already found these, but we left the fixin's for smores in the fridge in the dining area -they're in a green bag. Hopefully other guests can enjoy them while they sit by the fire. There was also a left over BLT in a takeout container – guessing you've already tossed that!
Thanks again for everything!
Sharlena, Director
Mid-Maine Lewiston HOG Chapter
2016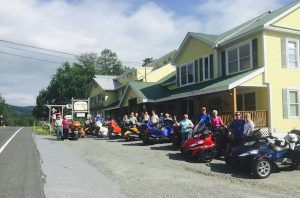 Just a note to let you know how much we enjoyed our stay in your facility.  Our group all have had nothing but good things to say about their stay.  Your sense of humor was refreshing to say the least, and meeting your "pool boy" (never did get his name) and having very short conversations with him makes me believe you have chosen a very competent pool boy.  We hope that your business thrives.  The breakfasts were superb, and the maps for places to go were very nice.  If we come that way again I believe we will use your accommodations once again.
All the Best, Ted & Terri. Oneonta Retreads
Thanks for a great time. Everyone enjoyed the Inn and the area. The weather was perfect too. We all got home save and sound, with no rain. – Ray and Elma
My son, myself and a friend stayed at your fantastic inn from 8.14 to 8/18. I just wanted to let you know how much we enjoyed the inn and your hospitality. the riding was great (despite some rain) and we are looking forward to coming back next year. We will pass the word about the Gray Ghost Inn….thanks again and be well. – Tom
2015
Fred, Vivien and I want to thank you for a very interesting week of discussion on the subject of humanism. I've attached a photo of those that went on the beaver pond walk and have sent copies to others in the group. – Earl

2014
I felt compelled to write and express the wonderful experience my wife and I had when you hosted a Bridge Boot Camp.  Briefly:
Accommodations although simple were clean and more than adequate.
Menus were varied and well planned.  Just how you managed to feed 34 people quickly without letting the food get cold is a tribute to your excellent planning (including assistance from your lovely Daughters) and staff.
Jessie, your cook is a find.
The walks and tour of Wilmington were a wonderful diversion from the intense  Bridge lessons.
Your Instructor, Marti was perfect.  She is an excellent teacher and humorist.  There never was a dull moment, and all questions were answered.
This is a tribute to your association with both Marti and Road Scholar.
Finally, you always had a smile, listened attentively and made everyone feel at home.  One never had the impression that you were rushed.
Thank you for making our stay at the Gray Ghost Inn most enjoyable.
– Joe and Nancy
2013
We enjoyed your hospitality and smiling face throughout our stay. You are an indefatigable woman. May god bless your family.
– Sunil and Hema, Bombay, India
2012
On behalf of the members of the Cumberland Valley Corvette Club, I would like to extend our heartfelt thanks to you for being such a wonderful hostess this past weekend! You and your staff were absolutely magnificent at taking care of us.  Our every need was taken care of promptly and efficiently. The Gray Ghost Inn and it's atmosphere was a perfect place for us to stay during our Vermont Cruise.  Your Inn fit our club's personality perfectly.
We enjoyed our evenings socializing in the lounge and out back on the deck and at the fire pit. The meals were fantastic and so much better than expected…they can only be characterized as truly Gourmet. Please thank Jesse for such a marvelous job! Several members indicated that they would like to do it again next year.  I'll be in touch.
– Tom
I wanted to thank you for the great time we all had at your inn. My wife Gale is now set on us getting another Lab, Loki was a great friend while we were there. If you would like to check out our trip you can go to our You Tube Channel http://www.youtube.com/user/NiagaraMiataClub  and click on the New England Ramble parts 1 and 2. Your inn is in part 2. Thank you so much for all you hospitality and making the arrangements so easy.
– Bob, Niagara Miata Club
Just wanted to thank you for the great nights stay last night. You made us feel welcome, and special, in spite of the large group you had staying there for the bridge event.    It was so nice to have breakfast on your deck instead of the dining room, and we loved the company of your dogs.   I am not sure of all the connections, but as a retired motorcycle shop owner, and with my wife being a breast cancer surviver we certainly felt a comfort level with your inn. I am sure we will visit again.   Thanks for the wonderful evening.
Dale and Diane Rowell
I've stayed with you a few times over the last couple of years. Last time was last July as I was on my way to Madawaska, Me. to begin my USA Four Corners Tour. As a member of SCMA, I also have interest in their 15 Best US Roads Challenge. Vt 100 is on the 2012 List…and it's right on the way to one of their Four Corners!! I suspect you'll be seeing some SCMA members this summer, since the Inn will be a PERFECT place to stop. I had written a letter to Blake Anderson, the Director of the SCMA after seeing this years road list…and he put my (slightly edited) letter into their Newsletter. I mentioned the Gray Ghost Inn…and your name got into the Newsletter… see page 7, "We Get Mail".
Bob Roger, Tuscarawas County, Ohio
SCMA
PS Hope to see you this summer, I've got two trips up that way. Haven't finalized my plans yet, but intend to make my reservations with you as soon as I do!
_+_
As you know, in March, I led a group of about 45 adults, predominantly members of the Snodazers Ski and Rec club, for a 3 night/day trip over St. Patty's weekend. We rented the entire inn. In January, I visited the Gray Ghost to meet Carina, the owner/operator, and review the facility. Carina gladly honored her offer to the group leaders within the council, providing my girlfriend and I a free night's stay and breakfast. The visit made it clear that her inn was definitely the place for this trip.
Leading up to the trip, I had many questions, requests and details to iron out, all of which was graciously accommodated by Carina and her staff. The ease of interaction, and professionalism with regard to detail, made Carina a pleasure to work with.
Once we arrived in March, every detail was prepared for, making check-in a breeze, and stress free for me, which as you know is not always the case with a large group arriving at various times. Our arrival ranged from 12 noon on Thursday afternoon to 12 midnight on Friday night/Saturday morning. While guests were still arriving I made several changes to the room assignments I had previously provided. None of this seemed to phase Carina.
During the stay, breakfast was served each morning, and I must note that it was an excellent breakfast. There was no limit to our preferred serving sizes, the selection missed no breakfast item, and the freshness of the ingredients could be tasted in each bite. Many members of our group commented that we would gladly stop in and pay for breakfast even if we had not been staying at the inn. In addition to the quality of the food, Carina and her staff were again very accommodating. They gladly provided for early risers, who arrived before the scheduled breakfast time, and late sleepers who arrived well after the agreed upon dining hours. Again, all with a smile. Carina also worked with the outside caterer we used for dinner to make sure our every need was met. Her staff drained the water out, and added ice to our coolers each morning, in addition to cleaning the common area and making our rooms. Carina even allowed us to come back and use rooms to change after our final day skiing, which was a tremendous plus.
The rooms were all comfortable and cozy as you would expect from a country inn. I appreciated the variety of room types, which enabled me to easily navigate the requests of various subgroups within our group. Queen rooms for couples, bunk rooms for kids, large rooms with many beds for old friends, a suite for a large family, and so on. The common space was perfect for our group. With a fireplace, flat screen tv, and industrial ice maker, and plenty of room, the group definitely gravitated there. But, everyone utilized the heated outdoor hot tub, and the game room featuring billiards, ping pong, foosball, and most of all, pacman. Lastly, but definitively not least, the location of the inn was ideal. On the Moover shuttle route to Mount Snow, we were at the main base in seven minutes each day.
Overall, the experience was excellent. I could not have been happier with the Gray Ghost Inn and have reserved dates for next year. Having run this trip for eight years, next year will be the first time we repeat, and I am excited to do so. Thank you for passing along Gray Ghost's info in the fall. Our group was a great beneficiary.
Sincerely,
Marc