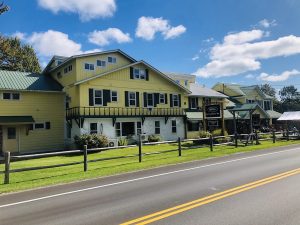 Please note our policies before booking your reservation.  Covid-19 policies are now in effect per the state of Vermont.
Our hot tub will be closed this year due to state safety regulations.
Guests are asked to wear masks when in public areas of the Inn and to practice social distancing for the protection of other guests.
Hand washing is highly recommended and hand sanitizer is available in our reception area for use of arriving guests.
All staff at the Inn will be wearing masks at all times as well as hand protection for food prep.
Our dining room will continue to serve breakfast with increased distance between tables.
All rooms are being thoroughly cleaned and sanitized after each guest leaves.

 

However, staff will not be cleaning rooms while you're here unless you specifically request it.

 

Towel re-use is encouraged but fresh towels will always be available when you need them.

 

Please deposit used towels and trash cans outside your guest room door for pickup by staff.
Reservations
A 50% deposit is required for all reservations. Deposits apply to the last night of the reservation. To send a reservations request please fill out the reservation form.
Check-in
After 3 p.m. Please let us know if you will be arriving after 10 p.m.
Departure
By 11 a.m. We will happily take care of your luggage on your day of departure. We also offer changing facilities.
Occupancy
If you bring more people to the room then the maximum occupancy for the room, there is a surcharge of $30 per night.
Cancellations
With a notice at least 14 days prior to arrival your deposit will be refunded. A notice within 14 days of arrival will result a forfeiture of your deposit unless the room will be re-booked.
Pet Policies
The Gray Ghost Inn welcomes dogs. Please read our complete pet policy page if you plan to bring pets to the Inn.