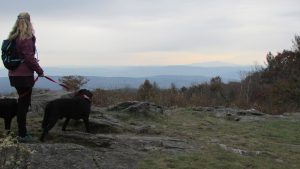 The Gray Ghost Inn is owned and operated by Carina Hellström with her three daughters Natalia, Emma and Sofia, and their black Labradors Odin, Onyx, and Freya. She is in her 20th year of owning the Inn.
Carina's daughters are nearly grown now — Natalia is a senior in college and Emma a freshman, both at Johnson and Wales University in Providence, RI.  Sofia is a sophomore at Brattleboro Union High School.
Our chef cooks all your meals during your stay.  For many of the meals we incorporate farm fresh produce.  Melissa and Ruth are your housekeepers. Carina's daughters Natalia, Emma and Sofia are your hosts, as well as our lovely black Labradors. Carina is not only your host and tour guide but your confidant as well to make your stay enjoyable.
Carina is originally from Sweden. She received her degree in Service Economics and Management from the University of Gothenburg, Sweden in 1990. For five years Carina worked at the Waldorf Astoria Hotel in New York.
Carina enjoys skiing, hiking, biking, her girls and just about any outdoor adventures including walking her dogs.  She is a devoted dog lover and has in the past raised Uncle, Yates, and Magnum, black male labs with Guiding Eyes for the Blind.
---