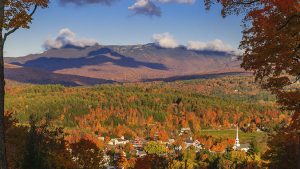 This fall, Gray Ghost Inn will be hosting a new Road Scholar tour especially for wildlife aficionados:  From Railroads to Wildlife: Learning Hikes in Southern Vermont.  Explore the picturesque woodlands of Vermont on expert-led walks, learn about fascinating local wildlife of the area. From your home base at the Gray Ghost Inn, you'll be guided to lakeside woods, verdant mountains and breathtaking vistas. Discover the state's colonial history and explore scenic landscapes in the Green Mountain State's famously lush forests.
Soak in panoramic views on daily hikes and nature walks.
Visit the Southern Vermont Natural History Museum, and get to know local wildlife.
Take part in a hawk watch and visit an 18th century homestead.
This Road Scholar wildlife tour is scheduled for September 26 – October 1, 2016, just in time for early autumn foliage here in Vermont.  Cost per person is $799 per person based on double occupancy with $145 supplemental charge for a private room.  Price includes lodging, meals, lectures, and field trips.
Visit the Road Scholar web site for complete course details.
Registration is limited — sign up today!