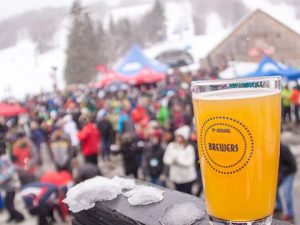 Beer lovers, rejoice. The 10th Annual Winter Brewers Festival at nearby Mount Snow is coming up soon on the weekend of March 30-April 1, 2018. This annual bacchanalia of the brewer's art draws folks from near and far to sample microbrews from some of the country's best beer artisans.
Kick off the weekend Friday night with the Vermont Craft Brew And Chili Contest in neighboring Wilmington, VT. Enjoy hot bowls of delicious chili from a variety of chili experts before setting off, well fed and happy, for an evening beer stroll. Now that's relaxing.
The following day, the Brewers Festival opens with 20 craft brewers, live music, food, and fun. Saturday night, have a great dinner at the Gray Ghost Inn and return to Mount Snow in time for the post-party with live music from Hayley Jane and the Primates.
What better place to stay then less than a mile away at the Gray Ghost Inn, where you can relax in comfortable rooms or socialize in our lounge and game rooms. Better still, you'll start your mornings off right with a full breakfast cooked to order.
Don't wait — book your room today online or just call us at 800-745-3615.