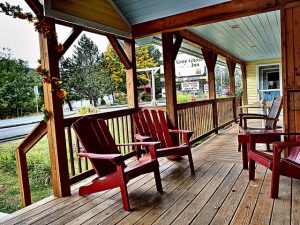 Summer is a great time to visit southern Vermont — the air is warm, the hills are green, and the atmosphere is conducive to serious relaxing. Here at the Gray Ghost Inn, we're ready and waiting to make sure you have a wonderful stay. Ride bucolic Vermont back roads, browse antiques shops and open air markets, and enjoy some of the best food in New England at the many great restaurants in the area.
There's plenty to do here in July but one of the area's annual highlights is the Blueberry Bash from July 27 through August 5. Come and sample fabulous blueberry pies and other goodies, or enjoy beer and barbecue (blueberry-themed) at Mount Snow.
Later in August, we hope you'll join us for the 101st Deerfield Valley Farmer's Day Fair on August 9-12. This time honored tradition celebrates local agriculture, just like in the old days. Great fun for the whole family!
But there's more. Call Carina at the Gray Ghost Inn (toll free: 800-745-3615) to learn more and make your reservation. Or simply book your stay online. If you've never visited our neck of Vermont before, you may find yourself starting a new tradition of your own!