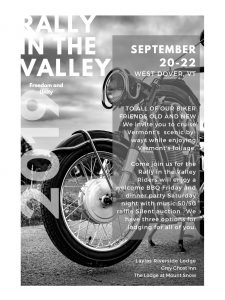 To all our biker friends old and new! The Gray Ghost Inn is your headquarters for this year's Rally in the Valley weekend coming soon, September 20-22, 2019. Come cruise Vermont's scenic byways while enjoying Vermont's foliage during one of our most enjoyable times of year. Riders will enjoy a welcome BBQ on Friday and a dinner party Saturday night with music, 50/50 raffle, silent auction, and more.
September 20-22, 2019
West Dover, VT
"Freedom and Unity"
Gray Ghost Inn is a co-sponsor of the Rally in the Valley event, and your innkeeper is a biker herself! Book your lodging at the Gray Ghost today and join us for a weekend of fun on southern Vermont's country roads.