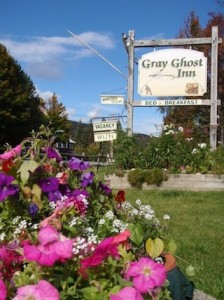 Great news — Mud Season is past and it's now officially Spring in Vermont from south to north.  Visit us now in Southern Vermont, where the trees are flowering, the bulbs are in bloom, and our state color — green — is returning to the landscape.  Better still, the weather is warming up again and we're seeing temps as high as the 70s.
Have we talked you into it yet?  If you haven't spent time in Vermont in the springtime, you owe yourself the treat.  Nothing could be more lovely, whether your passion is hiking (in our verdant woods), riding (on our picturesque country roads), or just taking a lazy drive to a nearby town or watering hole.
Join us at the Gray Ghost Inn and experience Vermont springtime firsthand.  You may find it so relaxingly pleasant, you won't want to leave!
–> Check room availability and book online