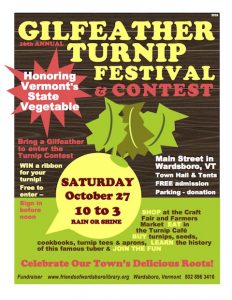 Foliage season is still underway here in Southern Vermont, and what better way to celebrate than with the weird but fun Gilfeather Turnip Festival in nearby Wardsboro, VT.  The festival honors the unusually large and lumpy looking Gilfeather Turnip, a local delicacy that's surprisingly delicious.  Even if you don't like turnips (and you might like these) you're bound to enjoy the local color and homespun charm of this agricultural tradition, now in it's 16th year!
Stay at the Gray Ghost Inn, your hub for autumn leaf peeping, early Christmas shopping, and yes, Gilfeather Turnip tasting (although you'll have to go to the festival to get your fill).
The Turnip Fest is October 27 from 10 am to 3pm.  Admission is free and the festival will take place rain or shine. At Town Hall, in The Big Tent, and all up and down Main Street, this is America's best turnip-oriented culinary event! You'll find arts and crafts and turnips galore.
To book your fall weekend at the Gray Ghost Inn, make your reservation online or give us a call at 800-745-3615.