Sept 27-29, 2013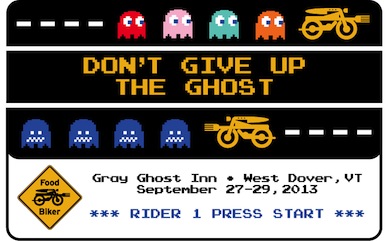 Fall leaves, fun twisties in Vermont, a chance to show off your bike on an up-and-coming series, and great food? What's not to love about that? Nothing! So pack your saddlebags and join us from September 27-29 at the Food Biker ™ "Don't Give Up the Ghost" mini-rally and filming event, at the Gray Ghost Inn, in West Dover, Vermont.
Wait….you don't know about Food Biker, the cool new series about riding to eat and eating to ride? Well, go check out the latest episodes at www.foodbiker.com! Seth Diamond is a rookie chef who's motorcycling around America, in a quest to explore both the current culinary and motorcycle scenes.
The Gray Ghost Inn is located near Mt. Snow, and as they say, "We know, because we ride!" The inn is a great place for motorcycle groups and cyclists to stop and stay. They have mapped out over 20 of the best routes to suite all levels of riding ranging from the 44 mile curvy and hilly ride perfectly named "Giddy from the turns" to the 300 mile spectacular Vermont Byways Ride.
About the Food and Lodging
Breakfast is included in the room rate, and you can fill up before your day's tour on eggs, pancakes, French toast, home fries, and all kinds of pork products! (Yay for bacon.) Saturday night's dinner will feature a special rally barbecue buffet for the fabulous price of only $25.75. That'll get you salad, St. Louis ribs, chicken, slaw, spuds, and baked beans. There's even dessert if you're still hungry.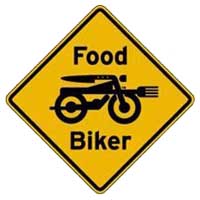 The rally rate is $49/night (per person, double occupancy) and $69/night for a single.  For inn and dinner reservations, please phone Carina directly at the Gray Ghost Inn at (802) 464-2474 or (800) 745-3615 and let her know you're with the Food Biker rally. You can also make reservations online at: https://www.grayghostinn.com. Reserve early or you will lose out to a tour bus full of leaf-peepers.
Rally RSVP
There are no additional rally fees, and non-motorcycling Food Biker fans are certainly welcome to join in the fun. To RSVP, to order rally shirts and more information, be sure to check out the following link on the Biker website: (http://www.foodbiker.com/food-biker-rally).