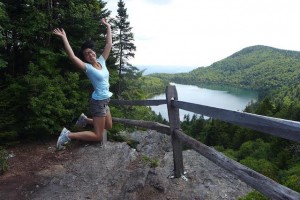 Gray Ghost Inn is proud to be a participating Adventure Inn in this year's Green Mountain Adventure Challenge, but time is running out — this year's Challenge ends on September 5, 2016.  If you've been meaning to get in on the fun, be sure to book your adventure now.  Your ticket to the Challenge includes two nights for two people at the participating inn of your choice.
As always, Gray Ghost Inn will get your day off to a good start with a full cooked to order breakfast in our dining room. When your daytime adventures are done, you'll be able to relax in comfort in one of our cozy guestrooms or with other guests in the lounge.
The Green Mountain Adventure Challenge is an epic real life action-adventure game that is part unsolved mystery and part outdoor adventure. It begins with a story that leads to a set of clues – maybe an old letter or a grainy map – which lead to more clues, the end of the story and possibly…cash. Lots of cash.
Solve the clues right the first time and you'll spend no more than 2 days exploring ancient forests, climbing mountain summits, solving mysterious codes and enjoying spectacular Vermont scenery.
Learn more about the Green Mountain Adventure Challenge.