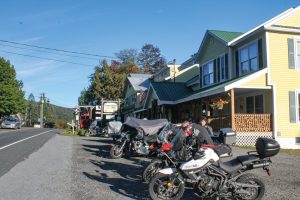 Rider Magazine just released a great feature story entitled "Riding Vermont's Route 100 From Massachusetts to Memphremagog" — the length of the state from the southern border to the Canadian line. The article describes in detail a trip up Route 100 end to end, with lots of scenic photos to inspire you. Better still, their writer (and rider) stayed at the Gray Ghost Inn on his trip and said very nice things about us!
If you're planning to repeat this scenic ride yourself (and you should) be sure to check in with the Gray Ghost Inn for lodging on the southern end of your trip. Comfortable beds and a full, cooked-to-order breakfast will launch you happily on on your way, whichever way you're going.
For reservations. call us at 800-745-3615 or book your accommodations online.