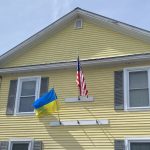 The Gray Ghost Inn is open to host your Vermont vacations all summer long.
The Gray Ghost Inn in West Dover is in the middle of some of the prettiest country around, and just a short, scenic drive from downtown Brattleboro or Bennington. You'll enjoy more of Vermont with the whole Deerfield Valley available for you to explore.
Vermont is beautiful all year round, but late spring has a special charm after the long northern Winter. No matter where you're from, you'll welcome the cool breezes of southern Vermont.
Ready to make a reservation? Book online or give us a call at 800-745-3615.