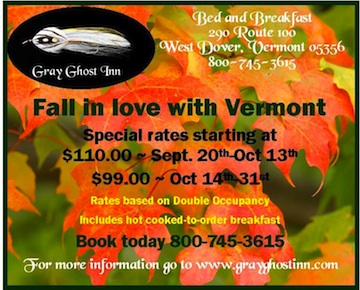 Join us at the Gray Ghost Inn this fall and enjoy one of the best seasons here in Vermont. Not only is the foliage at its colorful best, but snow lovers can get started with sales on ski, snowboard equipment and passes for the upcoming season.
Columbus Day weekend is a wonderful time to visit. You can enjoy drives in the endlessly scenic countryside, or sample local wares at one of the cheese, apple, and beer tours. Come for the Vermont Apple Festival, the 17th Annual Oktoberfest, and the 41st Annual Harvest Arts & Crafts Show at Mount Snow.
If you've been meaning to do foliage season in Vermont, Gray Ghost Inn has comfortable accommodations at great rates — only $110 through October 13 and $99 from October 14 through Halloween. Rates are based on double occupancy and include a hot, cooked-to-order breakfast.
Book your room today or call us for more information at 800-745-3615.