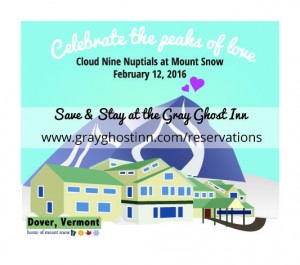 Gray Ghost Inn is offering a pre-Valentines Day room deal especially for couples:  stay with us Thursday and Friday nights, February 11 and 12, 2016, for a special rate of just $259 for the two nights.  Couples only on this one, or at least, double occupancy required.
For couples who are feeling especially romantic, Mount Snow is holding their annual 'get married on the mountain' event:  Cloud Nine Nuptials.  Meanwhile, guests of the Gray Ghost Inn will be pampered as always with comfy rooms, a full morning breakfast each day, and a warm and welcoming fireplace in the lounge.
Join us this year for Valentines Day fun — ski, snowboard, or get married!  It's your choice.  We'll be happy to host your visit no matter how you choose to spend the day.  Needless to say, all our rooms have Do Not Disturb signs…
Call us at 800-745-3615 or book your reservation online.