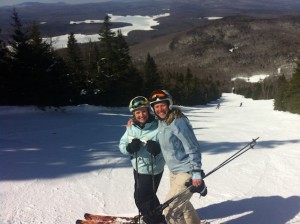 Mount Snow is planning to fire up the snowmaking system to refresh fan gun trails for the weekend. The grooming department is also spending some extra time on the hill double grooming key terrain and using the renovator on some trails. In short, we are still taking this season very seriously and think there is plenty of great skiing and riding ahead in the month of March.
The Red Bull All Snow is at Carinthia on Saturday, March 5, 2016. It is on Grommet and the setup is very cool – great spectator event and kids will love it too. Here's the link: Red Bull All Snow.
Red Bull All-Snow is an amateur contest series in the tradition of 1970's and 1980's freestyle snowboarding, with a  course is inspired by the hand dug half pipes and concrete skateparks of that era. Looking to do some March skiing?  Come on up and bring the kids!
Book your late season ski weekend now at the Gray Ghost Inn.