The Gray Ghost Inn is the perfect guest lodging for travelers on bus tours in New England and Southern Vermont.  The Inn is close to many attractions including historic sites, natural scenery, shopping, and recreation galore. Experience Vermont during the green summer months or come in autumn for the beautiful foliage.
Your bus tour package includes:
Welcome refreshments
Baggage handling
All meals (including dinner on arrival day and breakfast on departure day)
Experienced tour guide
Evening entertainment
All attractions
Comfortable rooms with private baths
Taxes & gratuities
Our caring, enthusiastic and attentive service
>> Download our Bus Tour brochure.
>> Call now to learn more and book your tour.
Sample Itinerary:
Day One: Arrival
Upon arrival at The Gray Ghost Inn guests will be escorted to their rooms, while their bags are being unloaded and delivered to their rooms. After guests wind down and settle in they will return to the lounge to enjoy a wine and cheese reception followed by a delicious home-cooked three-course dinner.
Day Two: Southern Vermont Tour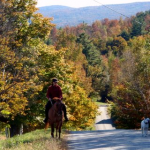 Wake up to a hot Vermont breakfast with Vermont maple syrup and Vermont Smoke and Cure Sausage & Bacon. Enjoy this day with a visit to "Hildene" the former estate of Robert Todd Lin-coln, the son of President Lincoln. A tour of the house and gardens is followed by a picnic lunch. We will also visit the finest example of a restored wooden Pullman Palace car in existence. Named Sunbeam, this beautiful piece of U. S. railroad history came off the line in 1903 when Robert T. Lincoln was president of Pullman.
We'll then head to the Vermont Country Store in Weston, Vermont to enjoy some shopping. Then head back to the Gray Ghost Inn and enjoy delicious home-cooked dinner by Chef Jessie followed by in-house entertainment.
Day Three: Vermont Farms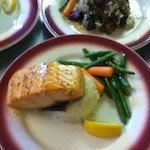 Rise to another hearty Vermont, cooked to order breakfast, to start your day. The day's adventures incorporate Adam's Farm and Friesians of Majesty.
For 140 years, the Adams have been working the land and entertaining guests on their family farm. Enjoy a comfortable wagon ride tour of the Adams' 100-acre working hillside farm. This is your chance to learn all about the family farm, farming, Vermont culture, and get a taste of their very own Maple Syrup! Shop in the Farm Store for fine Vermont products and many other specialties.
Return to the Inn for lunch and to freshen up.
In the afternoon we will visit the Friesians of Majesty in Townsend. Tour the stables where you can interact with the beautiful horses, then enjoy a carriage ride. An indoor show includes a six horse drill team, dressage and single horse carriage.
A delicious home-cooked dinner is followed by in-house magical entertainment.
Day Four: History, Apples & Writers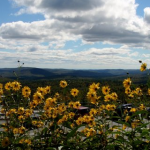 Wake up to a hearty Vermont, cooked to order breakfast.
Tour downtown Brattleboro, named the 11th best small-town to live in by Smithsonian Magazine in 2012. This quick town tour by bus (or foot) features the history of Brattleboro's downtown and its land-marks, and is presented by a local writer and historian. Lunch is at a wonderful cheese shop, with a menu specializing in cheese dishes, or at the new Brattleboro Food Cooperative, a great example of 'green' construction and collaboration.
In the afternoon, visit Rudyard Kipling's home 'Naulakha'—where he wrote the famousJungle Book. End your after-noon enjoying the beauty and smells at an heirloom apple orchard—with a filling snack of cider and apple pie. This is also home to an on-site workshop on dry stonewalling—the fascinating art of building stone walls with no mortar.
Note: This apple tour is available only in September and October; a trip to the Grafton Village Cheese Company is available when it is not apple season. 
As we tour the countryside, there will be several opportunities to see the covered bridges for which Vermont is famous.