Older testimonials from some of our many guests at the Gray Ghost Inn:
Summer 2011
Magnus and Carina, Thanks soooo very much for your hospitality AGAIN on our annual Ghost weekend.  To put up with all of us and keep us and many others an extra night/nights was extremely kind and assuring during a trying time for you and your area to say the least.  The dinner on Sunday night was totally unexpected, enjoyed and  surely appreciated.
Can't wait to see you and your family again in about 2 weeks.  Have been keeping an eye on the updates of the recovery of the area, and it is amazing how some areas are coming along.  We think of you "all"  in your beautiful State and hope for the best in a speedy recovery from Irene. Thanks again for opening your home and making it feel like our home.
– Cheryl and Bob Brooks
Hopefully you made it through the storm this past weekend unscathed.  I wanted to thank you for a wonderful time.  You and your family were extremely easy to deal with and very accommodating to our trip.  The food was excellent and your Inn, between the outside deck, yard, fire pit, pool, hot tub, and game room was a big hit with all the guys.  Because of your work with the golf course, everything there went very smoothly there as well.  Overall, this year's trip was a huge success, in no small part to you and your family.  Thank you very much and hopefully we can get together to do this again.
– Bill Hinchey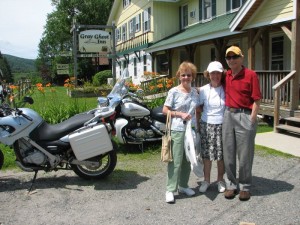 We can't thank you enough for making our visit so pleasant.  Taking we men golfing then showering all of us with your hospitality was more than we could expect.  As you can see from these photos, your other guests also shared the family-like atmosphere you provide. Separate from our fall outing planning, we feel now that we have found a friendly new stopover for our personal Vermont visits.   On behalf of our friends Jim & Marie, Pauline and I again thank you,
– John DiBella
I would like to take this opportunity to thank you for your hospitality you and your husband extended to us on 12/28 & 12/29.  Our vacation took an unexpected turn when our 2001 Tahoe blew its power steering pump.  We were up a creek without a paddle.  Three kids, a wife feeling ill and our stay was to end on 12/28. With the truck down, we had to stay an extra day.  John, at Chadwicks called around feeling bad for us.  By the grace of God we were connected with you.   You and your husband got us set up right away in a lovely room.  While my wife rested the kids and I took advantge of the wonderful amenities and games you offered.  You gave us your Volvo to use for dinner and even drove me back down to the garage the next day.  This will make for great stories in the future.  However, what will always stand out is you and your husband's hositality.  I just wanted to say thanks and we will see you soon and will spread the word about the Gray Ghost Inn.  P.S.  Give the dogs a snack for my kids.  They loved them.
– The Brown Family
A group of us "Jersey Girls" attended the first, May 2008, of what has been and will be many yearly Mothers for Daughters charity motorcycle "weekends".  From that first day forward, Carina and Magnus have gone out of their way to make us feel like family.  Carol and I have been and will continue to come back regularly.  From all of the Mother's weekends (the Jersey Girls have a perpetual reservation for the Suite) to family, jetskii and ski gatherings. This is a biker friendly place – both owners ride and a very dog loving establishment.  Carol's pugs (yes plural) are always welcome, even during the busiest of times !! We are very much looking forward to our next adventure there (our annual jetskii gathering) and every adventure that brings us BACK to the Grey Ghost Inn.
-Danna and Carol
Spring 2011 – Just wanted to drop you a note to let you know how much my family enjoys our time with you. I was asked why I didn't try the other inns — some have better beds or bigger bathrooms or TV in the rooms. I just smiled and replied we already had made our reservations and didn't want to change them. The truth is I like no TV and the rooms are always spotless and yea, maybe a bigger bath would be nice but  I dont think I'd make friends with an uncle at the others. You guys feel like home. Half the fun of MFD is getting to the Ghost. When I leave I feel like I'm leaving an old friend. As always we had a blast. Maybe Michelle and I will see you soon. Till then, peace n love,
Mike aka pink elvis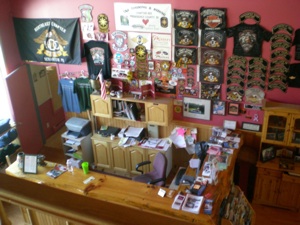 Sept 2008 – So sorry this took so long, but i know i promised to send you our chapter flag and picture from our visit with you both back in june.
We had the best time at the best b&b we have ever been to. You both were extremely hospitable and treated us special!! We will remember that and hope to include you in our ride schudule in the future. On behalf of the chapter and myself.
Our sincere thanks,
Bob Enterlante
A.C. H.O.G. Director
Aug 2008 – I wanted to let you know that we had a great time. Brendan, Amy, Kim and I had a wonderful time during our stay in Aug. From the moment we walked through the front door I felt comfortable and relaxed. The food was excellent esp. the BBQ dinner. From your beautiful daughters running around entertaining the guest to your dogs cuddling up for a petting it very relaxing. Magnus your recommendations for different rides was very helpful. Again, Thank your for your great hospitality I know we will certainly be back there again. Safe Riding and see you soon.
– Kevin Muravnic
May 2008 – Bob and I and the rest or our "gang" just wanted again to say what a wonderful time we had with you.  We haven't laughed that much in a long time.  The food was EXCELLENT, the ride on Sunday was just the best (couldn't have done it without you Magnus!  And thank you Carina for letting us borrow him for the day!!) The campfire on Sunday evening was beyond words.  I could go on and on.  In fact, our President – Steve Natale told Bob on Monday that it was "probably one of the best weekends away he has ever had in his life!!!"    We hated to come back to reality, and it was one of the few times that I truly wasn't ready to go back home.    You can surely bet we will be back again next year.  Bob and I said we may want to try to sneak up there again with a few friends in the fall.  We are checking our schedule, and will be in touch.   Again, thank you for going over and beyond the call, making everyone feel welcome, it really felt like home.
Best to you and your family, and staff.
Cheryl and Bob Brooks – Star Riding.
May 2008
Magnus and Carina,   I can hardly explain what a great time we had at your facility!  The fun, food and hospitality were fantastic.  We need to get there again! Hopefully soon.  I had said that we have to have a longer stay and more people, but if we can't get more people, I'd be more than happy to again go with who we had with us this time.  It certainly made it easy to decide what to do and when to do it.  The roads around the area were just fantastic and the pre-planned rides you provided were excellent!  The common room made it great to gather up after a days riding and discuss the adventures of the day. I'm already trying to figure out when we can get back up there. We talked to a group from north jersey who were heading up to I think "Red Oak Inn".  We told them to stop by for a tour of your facility and check it out.  We've been passing the word of the great time we had this past weekend in hope of more joining us next time.
Below is a ride report posted on our club website by Darrell who was on the Buell.   Thanks again for a great time and a great facility! Isaac Zane Feel free to view the website and to join up on the site if you would like.  Our webmaster will probably send you a note asking about yourself in order to keep spammers out.  Tell'm I sent ya.  I might actually work.
Re: Heading To Vermont   It was a weekend of riding, eating, riding, eating, riding, ribbing, and laughs with great friends up at the Gray Ghost Inn in Vermont.   We left early Friday morning and returned late Sunday night. All told we put just shy of 1200 miles of beautiful roads beneath our wheels.
The Innkeepers, Magnus and Carina, couldn't be more accommodating. From towels to dry our seats from the morning rain, to picking up sodas for us while they were out and about. Bottled water was offered each morning to pack in our saddlebags, and routes were pre-planned and mapped out if we needed guidance. These folks know how to cater to the biker crowd, being bikers themselves. After we arrived and checked in on Friday, we took a pre-planned route to see 5 covered bridges that were nearby. After about 100 miles, covering about 1000 turns, we decided dinner was in order. After a delicious meal, we returned to the Inn, only to be greeted by a group of Yamaha riders groaning over the Harley's coming in.
Saturday found us eating homemade blueberry pancakes, sausage, bacon, toast, eggs, and coffee. Magnus is a chef and it shows in his cooking. While eating breakfast, a downpour was occurring outside, and the Yamaha riders were looking nervous. We all finished breakfast and donned our rain gear (all meaning all of the HOG members). We headed out under gray skies and wound our way around the greater Dover area, returning back to the Inn at about 11am.
Walking into the Inn it occurred to us that the Yamaha riders had went out, unfazed by the gray skies. We hadn't gotten a drop on us all morning, and neither had the Yamaha riders. The afternoon didn't work out the same for us.
While the donning of the rain gear kept the rain at bay all morning, after lunch (which was ate a nice little deli a few towns over), we hit some showers. The showers quickly turned to downpours, but the roads we were on seemed to make the rain disappear. The sights, the roads, the twisties, the ups and downs of the mountains kept focus on the ride, not the rain.
We arrived back at the Inn to find the Yamaha riders dry and poking fun at those Harley riders. How'd they manage to stay dry during the downpour? Well, their bikes had never moved. The took the Moover into town (a free local bus service) and back to the Inn, where they had shacked up all day. After some major ribbing by Ike and I, things settled down and the BBQ began. What wonderful food we had that night. Magnus grilled chicken, ribs, made beans, slaw, and topped it off with apple pie a- la-mode.
Space was offered next to the furnace to dry our wet gear, and story telling and picture viewing commenced.
Sunday found us with another great breakfast before saying our good- byes and heading for home. We wound through the back roads all the way to Trenton, where home was calling too loud to continue with the secondary roads.
The Gray Ghost Inn has to be the most biker friendly establishment I have ever stayed at, and the owners strive to keep it that way. Ike's suggestion to go next year the week before the HOG rally seems to be a great time to incorporate a Vermont trip into our ride schedule.
Details about next years trip to follow shortly.    Until then, I'm off to Arkansas to scope out the Ozarks and the riding opportunities they offer.
Ride Safe,    -Darrell